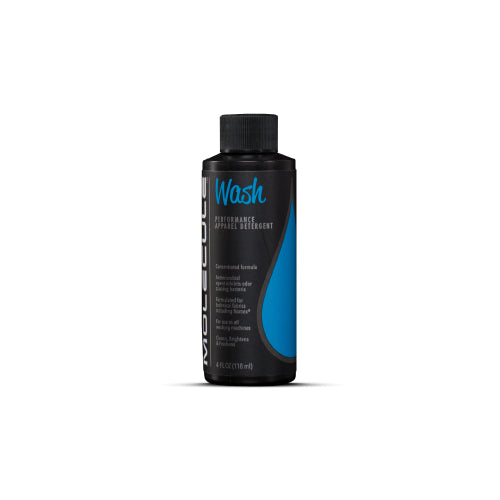 ***Use discount code MOLECULE15 for a limited time only***
Molecule WASH effectively cleans sports equipment, including technical fabrics like Nomex®, in standard washing machines. WASH also removes contaminants that can degrade fabric performance and odor causing bacteria.
Available In:  4 oz, 16 oz, 1 Gallon, and 5 Gallon
• Concentrated formula effectively cleans technical fabrics in standard washing machines
• Removes contaminants that can degrade fabric performance
• 
Most cost effective and safer than dry-cleaning
• 
Contains a fabric brightener to help you look your best
• 
Recommended for technical fabrics, including Nomex®
• 
Maintains fabric breathability
WASH is used similar to how you would use other liquid detergents. It is a direct replacement for your current laundry detergent that isn't getting the job done in cleaning your performance apparel. What differentiates WASH is the quality and versatility of the product. Safe for highly technical fabrics such as Nomex®, premium cleaning agents to combat the harshest of stains, color enhancers to keep that new look and Pico-12 technology that attacks odors directly at the source leave other detergents telling you why they're the best instead of proving it.
We know the feeling of washing a towel or anything that has bacteria based odors and the funky smell not going anywhere. Molecule uses proprietary Pico-12 technology to attack odors directly at the source to get rid of the stink the first time and help prevent their return. Instead of masking the odors with fancy scents, we cut straight to it and attack the odors where they originate keeping your gear truly clean after it's been washed.
For more information check out our About Molecule and Why We Love Molecule.