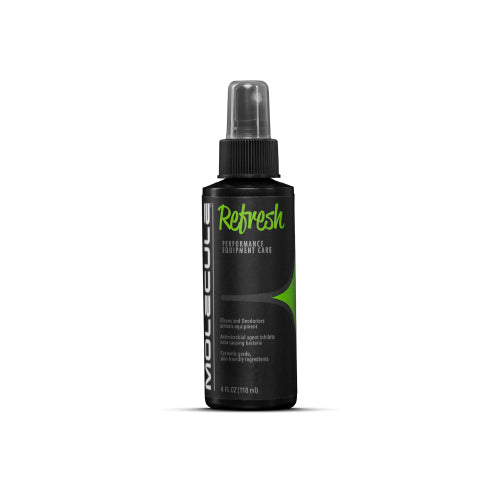 ***Use discount code MOLECULE15 for a limited time only***
Molecule REFRESH keeps race suits, helmets, and gear fresh. 
REFRESH is the most versatile product in the Molecule lineup. After countless race weekends, we knew the joys of fresh driver gear was over after the first on-track session. REFRESH was designed to keep all equipment fresh when washing is not an option. With an easy spray and dry application, keeping gear clean is virtually effortless.
Available In:  4 oz, 16 oz, 1 Gallon, and 5 Gallon
• Contains an antimicrobial agent to inhibit the growth of odor causing bacteria
• 
Reduces odors on all types of technical fabrics
• 
Cosmetic-grade, skin-friendly ingredients
• 
Maintains fabric breathability
• 
Light fresh scent
• 
Recommended for technical fabrics, including Nomex®
Just like WASH, REFRESH uses Molecule's proprietary Pico-12 technology to attack odors directly at the source. Once sprayed, REFRESH actively detects the odor sources and not only suppresses them, but prevents their return in the future.
The REFRESH scent is unflavored and is described by most as simply smelling like… Molecule. Molecule has become known over the years for its distinct scent that many of the products have. Molecule tries to keep things light and clean, just enough so you know it worked and that the odors are gone.
REFRESH is designed to spray and let dry with no residues. Like all Molecule products, REFRESH is non-flammable and skin-friendly, so even when wet it's still safe.
For more information check out our About Molecule and Why We Love Molecule.