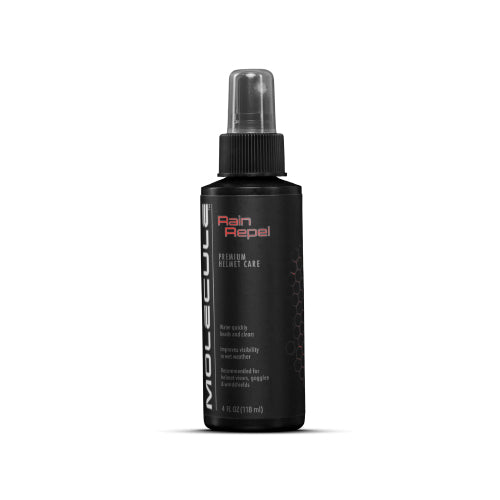 ***Use discount code MOLECULE15 for a limited time only***
Molecule RAIN REPEL improves visibility in wet weather. The easy to apply formula repels rain and water. For use on windshields, visors, goggles or windscreens.
RAIN REPEL is designed to increase the surface tension of water to quickly shed large beads from visors. As rain falls, it sticks to the microscopic edges on the surface of visors or screens. Rain Repel reduces the friction between water droplets and the surface to keep vision clear.
Available In:  4 oz
• Apply to visors, goggles, windshields or windscreens and watch rain fly off
• 
Spray on, allow slight haze, reapply Molecule RAIN REPEL to ensure uniform
• 
coverage
• 
Wipe final haze with dry cloth and watch rain easily keep clear
• 
Environmentally friendly, biodegradable and non-hazardous
Apply to the outside of you visor, windscreen or any surface where you don't want water to accumulate and watch the rain bead off in large droplets.
For more information check out our About Molecule and Why We Love Molecule.