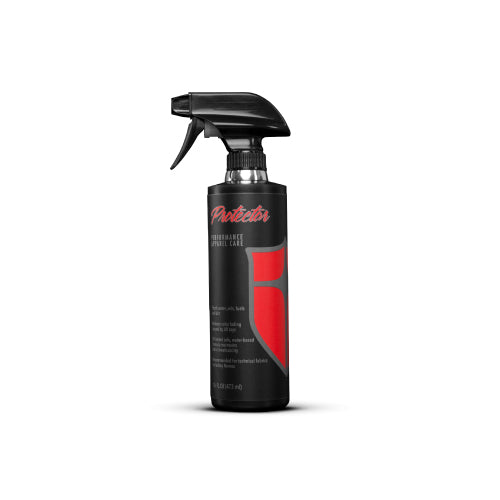 ***Use discount code MOLECULE15 for a limited time only***
Molecule PROTECTOR's specially engineered formula bonds technical fabrics, like Nomex®, to help repel oils, grease and other liquid stains. PROTECTOR also helps maintain breathability while keeping colors vibrant by shielding UV rays.
Available In:  16 oz, 1 Gallon, and 5 Gallon
• Keeps gear cleaner and safer by resisting contaminants that can degrade fabric performance
• 
Fabric sunscreen reduces color fading caused by UV rays, sheds water, oils, and dirt
• 
Safe, water-based, patent pending formula
• 
Resists petroleum based stains
• 
Maintains fabric breathability
• 
Spray on and tumble dry to create a durable protective coating
• 
Recommended for technical fabrics, including Nomex®
There may be nothing more terrifying in motorsports than the prospect of fire, PROTECTOR is a necessity for any racer. PROTECTOR creates a barrier against any liquid substance that may come in contact with your suit; this includes fuels, oils, greases and water. This is important for two reasons. First, although Nomex® will help in creating a barrier against fire, if that Nomex® suit is soaked with fuel, your safety barrier is greatly compromised.Second, to keep you're suit looking fresh and clean, PROTECTOR makes it easier to wash and prevent petroleum based stains from ruining your image – more importantly the image of your sponsors. Check out our RESOURCES tab for testing videos and documentation.
With a clean suit, liberally spray the exterior of the suit with PROTECTOR. While still damp, put the suit in the dryer on medium HEAT, yes HEAT. Protector is designed to work best when it is heat cured. The polymer creates a bond with the fabric to repel liquids and it works.
Thoroughly re-apply Molecule PROTECTOR after 4 to 6 wash cycles. For ultimate protection, apply a light spray coating after every wash cycle. Always dry on medium HEAT after applying Molecule PROTECTOR.
For more information check out our About Molecule and Why We Love Molecule.