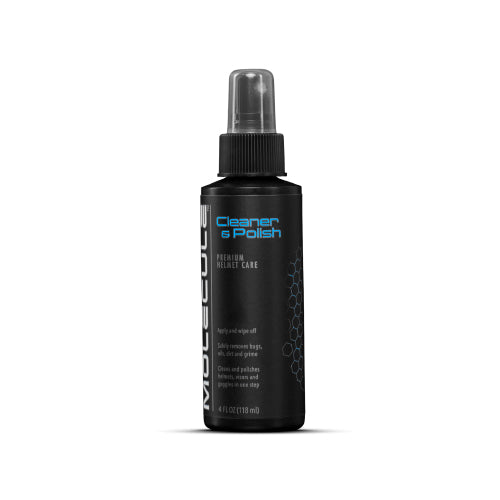 ***Use discount code MOLECULE15 for a limited time only***
Molecule CLEANER & POLISH is designed to keep helmets clean, shining and protected. Safe to use on finishes and visors including flat and matte.
Caution:  Not for use with Stilo visors.
Available In:  4 oz
Safe on all types of finishes, the CLEANER & POLISH solution has a light cleaning element targeted to both petroleum (oils/fuels) and organic (dirt/bugs) build up. The polish component is a non-wax based reactive siloxane the attaches to the surface without having a slimy feel.
The CLEANER & POLISH formula does not contain ammonia, so it's safe on plastics and will not etch or scratch your surface. Be sure to use a clean micro-fiber towel for best results.
For more information check out our About Molecule and Why We Love Molecule.