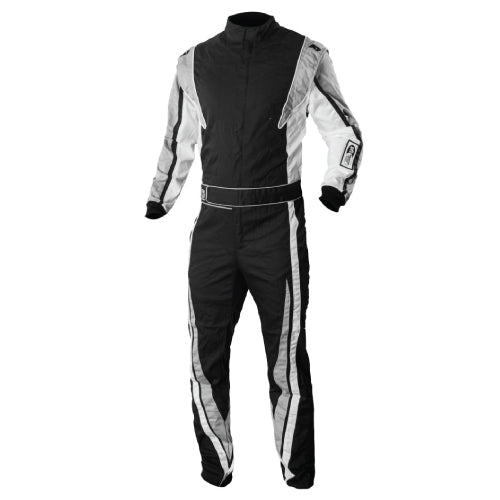 K1 RaceGear has designed an industry first breathable suit. The Victory Race Suit  is single-layer, SFI 3.2a/1 certified fire suit and constructed of Proban fire retardant cotton material with a Nomex treatment and a Hydro Oleo treatment to repel fluids. This unique material has been designed to allow air to pass through to keep cool, yet maintain full fire protection for the driver. This suit includes full 360 degree arm gussets to provide optimal mobility and the Crotch Stretch Panel allows the driver to easy slip in and out of the vehicle without the worry of pulled seams. The addition of an anatomically placed Back Stretch Panel provides comfort to the driver while in a sitting position.
The Victory suit provides the following features at a stock suit price while still maintaining a custom look:
• SFI 3.2a/1 Certified
• Single-layer Proban treated with Nomex
• Relaxed Fit
• Breathable material
• HYDRO OLEO treatment to repel fluids
• 3
60 degree 
arm gussets
• Back and crotch stretch panels for added comfort
• Velcro closure at belt and collar 
• Zipper front
• Bootcut legs
• Custom suit look
• PERFECT FOR REFUELING DUTY IN THE PITS WITH USE OF NOMEX UNDERGARMENTS
For more information about K1 RaceGear check out our About K1 RaceGear and Why We Love K1 RaceGear.