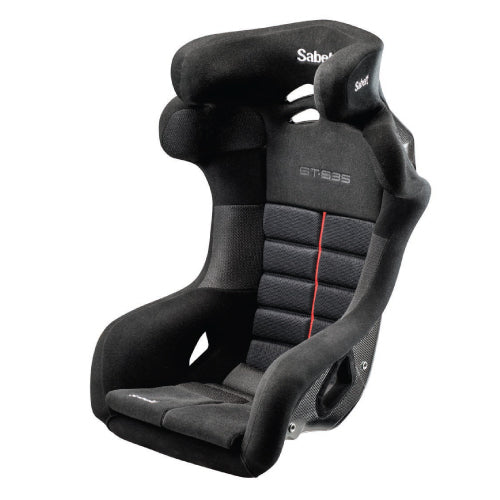 The NEW Sabelt GT-635 Carbon Fiber race seat is FIA certified in accordance with the latest, most stringent, and safest FIA regulation. It was designed for Circuit and Rally racing and is the result of studies aimed to ensure an ergonomically optimal position for the driver. The flat-shape bottom and back inclination were designed to provide proper fitting for both Circuit and Rally cars. The double shoulder harness slots allows the seat to accommodate a wider range of torso heights.
The Sabelt GT-635 Carbon Fiber uses two shell sizes and is available in three different seat sizes, Medium (small shell), and Large and X-Large (big shell) thanks to ergonomically designed padding derived from Sabelt's world renowned experience as an OEM seat supplier for sport cars and race cars including Ferrari Challenge race cars.
The new fabric provides improved grip in specific areas, including the legs and back, and improved comfort thanks to a breathable 3D mesh material. The seat is available with sliding rails or fixed brackets.
The Sabelt GT-635 Carbon Fiber provides the following features:
• FIA 
8862-2009
Certified
• Designed to ensure an ergonomically optimal position
• Double shoulder harness slots to accommodate a wide range of torso heights
• Available with sliding rails or fixed brackets
• Incorporates a new high grip fabric
• Breathable 3D mesh material in leg and back areas
• Lateral mounting holes
• Available in MEDIUM, LARGE, and X-LARGE
• 100% Made In Italy