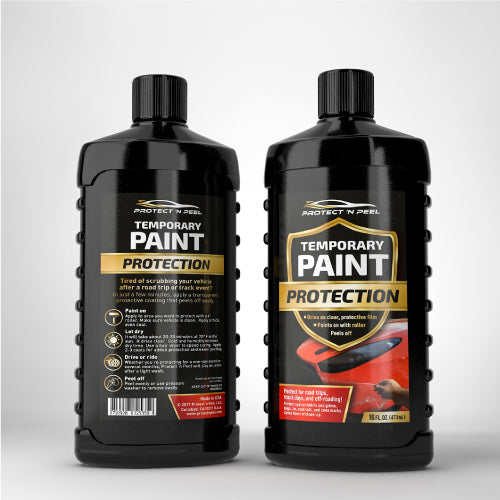 Protect your paint and save hours of clean-up time. Protect 'N Peel offers temporary, durable protection against rock chips, road rubber, cone marks, and any debris that might otherwise damage paint or a clear bra.
Perfect for track days, autocross, road trips or off-roading. Nothing else offers temporary, clear, durable protection that peels off like Protect 'N Peel. It's perfectly safe on all paint, directly over clear bra, and over plastic trim and rigorously tested by a laboratory to ensure it wont harm your vehicle.
Proudly Made in the USA!
How it works (Detailed Instructions):
-Apply with our Paint-Roller Kit (sold separately) directly onto paint, headlights, or clear bra.
-Apply 2-3 THICK coats for best protection and easy peeling. It must be thick, like pancake syrup on pancakes, in order to protect effectively AND peel off easily.
-Product dries to a clear, tough film in about an hour in 70º F.  Leave on for as long as you like. Product will remain for weeks or longer.
-When finished with your road trip, race, off-road adventure or other driving event, just peel it off to reveal perfectly clean paint or clear bra. REMOVE IN SHADE ONLY - NEVER SUN. Your paint must be completely cool before attempting to peel. As an alternative to peeling, you can remove using a pressure washer and remove in 60-70º F.