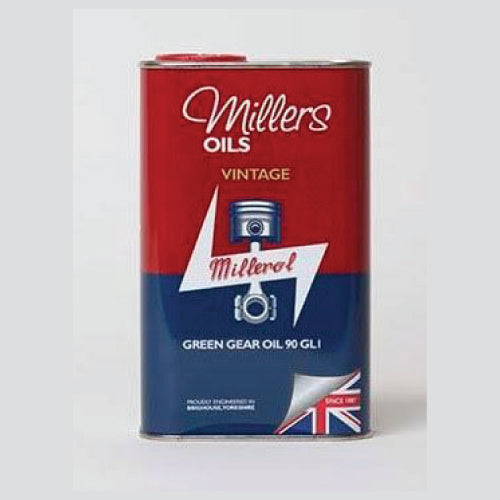 Product Description
A non-extreme pressure mineral based gear oil. Specifically formulated for vintage transmission systems. They contains inhibitors to prevent the formation of rust, to promote good oxidation resistance and encourage long life.
APPLICATION:
Use as received for lubrication of transmission systems which precludes the use of extreme pressure (EP) types.
USER BENEFITS:
Non EP GL1 formulation specifically for vintage applications.
Contains inhibitors to prevent formation of rust.
Good oxidation resistance and long life.
PERFORMANCE PROFILE:
• API GL1
TYPICAL CHARACTERISTICS:
SAE viscosity grade 90
Specific Gravity (at 15°C) 0.903
Kinematic Viscosity (at 100°C, cSt) 18.8cSt
Kinematic Viscosity (at 40°C, cSt) 234.0cSt
731 Viscosity Index 89
Pour Point (°C) -15
Flash Point (°C) 191
HEALTH AND SAFETY:
Health and Safety Data Sheet 7678 applies to this product. When used for the purpose recommended and with due regard to the appropriate Health and Safety Data, the product should cause no concern.
FOR TECHNICAL ASSISTANCE:
If in doubt, consult with our partner shop, RPR Automotive at 410-589-3966.