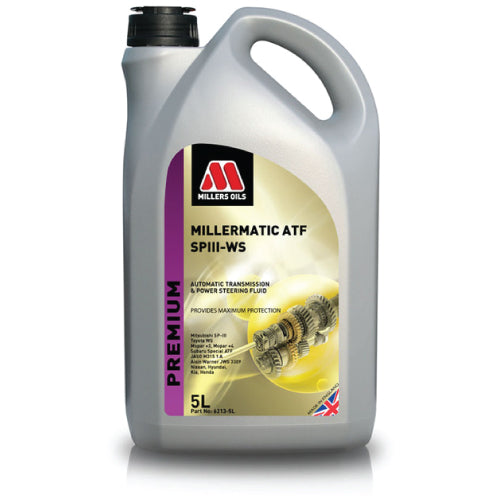 Millermatic ATF SPIII WS for many Japanese and Korean cars as well as others
Product Description
** Note - 5L jug pictured.  1 Liter bottles available.
Premium fully synthetic automatic transmission fluid.
APPLICATION:

• An automatic transmission fluid formulated to meet the high performance levels required by Japanese and Korean manufacturers.
USER BENEFITS:
• The additive selection provides excellent friction durability and anti-shudder performance ensuring a smooth transmission of power.
• High resistance to oxidation and degradation, providing protection throughout the long service intervals.
• Also suitable for SP-IV applications.
PERFORMANCE PROFILE:
Suitable for use where the following specifications are called for by the vehicle manufacturer:
• Mitsubishi SP – II and SP – III
• Toyota T-III, T- IV and Toyota WS
• Nissan Matic C,D,J,S
• Hyundai and Kia rebrands of Mitsubishi fluid
• Honda ATF Z1 (Except CVT)
• Aisin Warner JWS 3309, JWS 3324
• Subaru Special ATF
• JASO M315 1A
• GM Dexron III and GM 9986195
• Ford Mercon V and M2C 924-A
• Mopar +3, Mopar +4
TYPICAL CHARACTERISTICS:
• Specific Gravity @ 15 degrees C 0.848
• Kinematic Viscosity @ 100 degrees C 7.4cSt
• Kinematic Viscosity @ 40 degrees C 35.0cSt
• Viscosity Index 185
• Pour Point degrees C -42
• Flashpoint degrees C 200
• Color Red
HEALTH AND SAFETY:
Health and Safety Data Sheet 7678 applies to this product. When used for the purpose recommended and with due regard to the appropriate Health and Safety Data, the product should cause no concern.
FOR TECHNICAL ASSISTANCE:
If in doubt, consult with our partner shop, RPR Automotive at 410-589-3966.