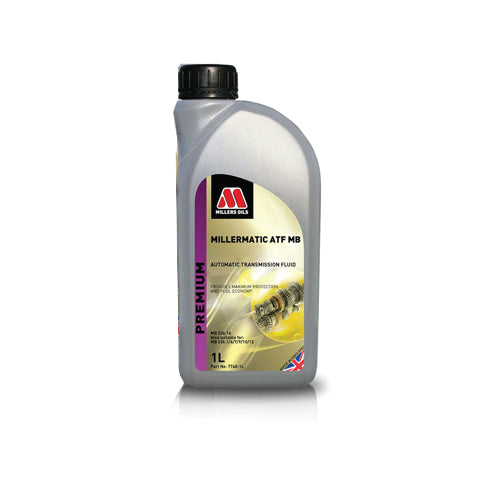 MILLERMATIC ATF MB for many Mercedes Transmissions
Product Description
Premium fully synthetic automatic transmission fluid.
APPLICATION:
Use as received in automatic transmissions for Mercedes RWD, AWD, 4MATIC and all AMG models. 4, 5 and 7 speed automatic transmissions.
USER BENEFITS:
• Outstanding low temperature fluidity provides easier shifting even at low temperatures
• Shorter warm up ensures maximum gearbox efficiency
• Excellent high temperature oxidation and friction stability properties throughout normal service intervals
PERFORMANCE PROFILE:
• MB 236.14
• Also suitable for MB 236.1/6/7/9/10/12
TYPICAL CHARACTERISTICS:
• Specific Gravity @ 15
°C 0.843
• Kinematic Viscosity @ 100
°C 6.4cSt
• Kinematic Viscosity @ 40
°C 29.17
• Viscosity Index 181
• Pour Point
°C -49
• Flashpoint
°C >180
• Brookfield Viscosity @ -40°C 11,00
HEALTH AND SAFETY:
Health and Safety Data Sheet 7678 applies to this product. When used for the purpose recommended and with due regard to the appropriate Health and Safety Data, the product should cause no concern.
FOR TECHNICAL ASSISTANCE:
If in doubt, consult with our partner shop, RPR Automotive at 410-589-3966.