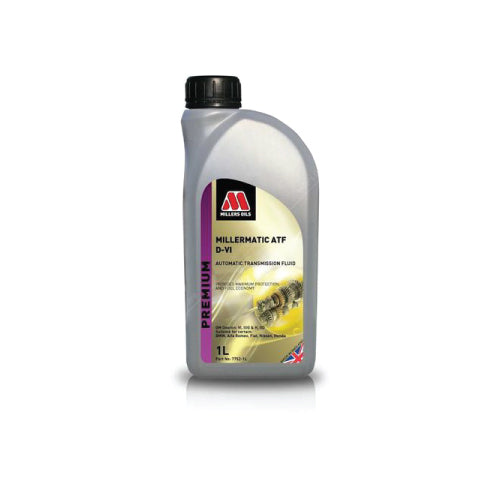 Millermatic ATF D-VI for GM automatic transmissions
Product Description
Premium fully synthetic automatic transmission fluid for GM automatic transmissions from 2006 onwards.
APPLICATION:
Use as received in automatic transmissions and other equipment which require this type of lubricant.
USER BENEFITS:

• Provides a lower viscosity than the previous Dexron IIID product providing improved fuel economy.
• Improved oxidation and thermal stability provides outstanding low temperature performance ensuring smooth gear change and extended fluid life.
• Improved anti-wear and resistance to sludge extends component life.
• Outstanding low temperature fluidity provides exceptional cold flow properties.
• Enhances the performance of new and older GM transmission.
PERFORMANCE PROFILE:

• General Motors Dexron VI, IIIG & H, IID
• Also suitable for certain models of: BMW, Alfa Romeo, Fiat, Nissan, Honda
TYPICAL CHARACTERISTICS:
• Specific Gravity @ 15
°C 0.848
• Kinematic Viscosity @ 100
°C 6.0 cSt
• Kinematic Viscosity @ 40
°C 29.5 cSt
• Viscosity Index 155
• Pour Point
°C -48
• Flashpoint
°C 208
• Brookfield Viscosity @ -40°C 12,50
HEALTH AND SAFETY:
Health and Safety Data Sheet 7678 applies to this product. When used for the purpose recommended and with due regard to the appropriate Health and Safety Data, the product should cause no concern.
FOR TECHNICAL ASSISTANCE:
If in doubt, consult with our partner shop, RPR Automotive at 410-589-3966.