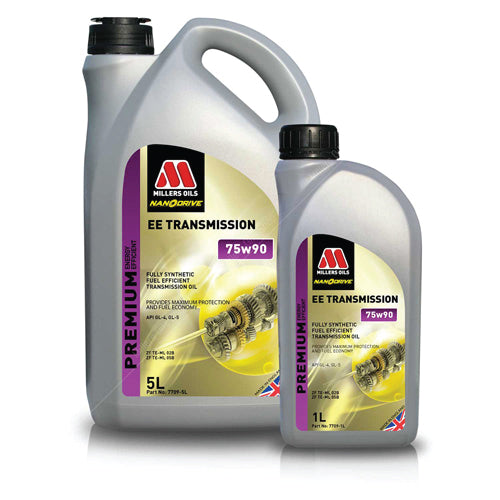 Product Description
A fully synthetic high performance, low friction, fuel efficient transmission oil. Part of the Millers Oils NANODRIVE Low Friction Technology range. Formulated to meet the demanding requirements of today's gearbox and transmission designs, with the added benefits of reduced friction, improved fuel economy and a reduction in overall running costs.

APPLICATION:
For use in car and light van manual gearboxes and axles where the ultimate performance and cost effective gear oil is required.

USER BENEFITS:
• 
A reduction in friction between the metal components helps absorb the extreme pressures produced.
• 
The sliding and rolling friction is reduced compared to other standard 75w90 grades.
• 
The quality of the gear change is vastly improved.
• 
Overall running costs are reduced through lower fuel consumption and longer component life.
PERFORMANCE PROFILE:
• 
API: GL-4, GL-5
• ZF: TE-ML 02B & TE-ML 05B
TYPICAL CHARACTERISTICS:
• 
SAE Viscosity 75w90
• 
Specific Gravity (at 15°C) 0.877
• 
Kinematic Viscosity (at 100°C, cSt) 17.85
• 
Kinematic Viscosity (at 40°C, cSt) 108
• 
Viscosity Index 183
• 
Pour Point (°C) <-40
• Flash Point (°C) >200
HEALTH AND SAFETY:
Health and Safety Data Sheet 7678 applies to this product. When used for the purpose recommended and with due regard to the appropriate Health and Safety Data, the product should cause no concern.
FOR TECHNICAL ASSISTANCE:
If in doubt, consult with our partner shop, RPR Automotive at 410-589-3966.