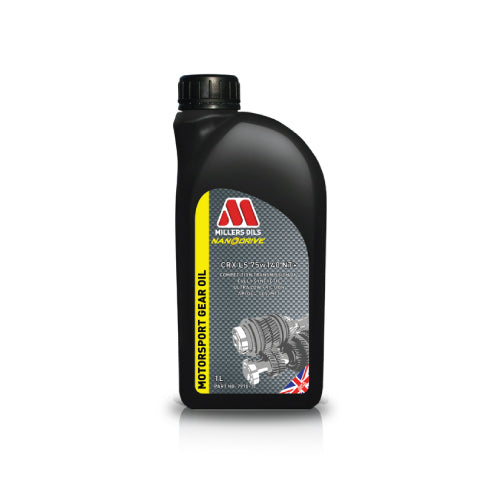 Product Description
Competition heavy duty full synthetic transmission oil for highly stressed applications with friction modifiers for limited slip differentials. Incorporates "Nano Technology" additive chemistry to significantly reduce internal frictional and power losses, whilst providing additional shock protection to the gear mechanism. This is a competition grade transmission oil and formulated using a unique combination of improved chemistry and lower friction NANODRIVE additives to massively reduce friction vs. a standard oil.
APPLICATION:
Designed for the lubrication of final drives which are subject to high stresses or arduous applications, such as long distance racing or rallying on very high power and torque outputs. Hypoid differentials with limited slip, gearboxes with combined limited slip differential, synchromesh and non-synchromesh manual gearboxes, transaxles and transfer boxes. Hewland, Xtrac, Glebe Transmissions, ZF, Tran X.
USER BENEFITS:
• Laboratory tests and results show a further 15% reduction in friction and a further 17% reduction in wear over the previous award winning NT range
• Friction-modified transmission oil specially formulated to give smooth lock up, minimal chatter and optimum performance.
• Good cold flow properties for easier gear changes.
• Very good oxidation resistance and superior thermal stability.
• The incorporation of NT additives provides outstanding protection to dog rings and gears, whilst low friction formulation helps reduce operating temperatures.
• Significantly reduces friction, temperature, wear and minimises power loss.
• Proven solution to transmission problems in high performance rally cars

PERFORMANCE PROFILE:
The systems employed satisfy the performance requirements of:
• API GL4 API GL5 API MT-1 MIL-PRF-2105E
• ZF TE-ML-05B ZF TE-ML-05D (Limited Slip) ZF TE-ML-07A ZF TE-ML-12B
• ZF TE-ML-16F ZF TE-ML-17B
TYPICAL CHARACTERISTICS:
SAE Viscosity Grade 75w140
Specific Gravity@15°C 0.887
Kinematic Viscosity@100°C >24.2cSt
Brookfield Viscosity@-40°C 117,000mPas
HEALTH AND SAFETY:
Health and Safety Data Sheet 7678 applies to this product. When used for the purpose recommended and with due regard to the appropriate Health and Safety Data, the product should cause no concern.
FOR TECHNICAL ASSISTANCE:
If in doubt, consult with our partner shop, RPR Automotive at 410-589-3966.