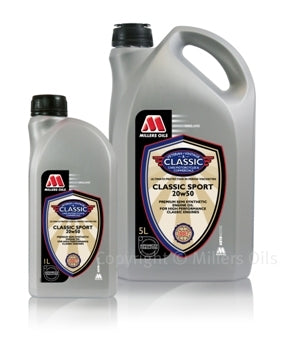 Product Description
• Semi-Synthetic version of Classic Performance 20W50 for 1960's-1980's applications
• Elevated ZDDP levels, along with detergents and dispersants in robust additive pack
• Meets or exceeds API SF specification
DESCRIPTION:
Semi synthetic engine oil for classic performance and sports car engines. Extra high performance engine oil based on highest quality performance additives and shear stable viscosity improvers in synthetic and mineral base.
APPLICATION:
Use for lubrication of high performance engines manufactured from post war period to early 80's. Ideally suited to Aston Martin, Jaguar, Ferrari, Lotus and similar high specific output engines. Suitable for all discerning owners who want the best possible oil for their classic engine.
USER BENEFITS:
• Uses latest lubricant technology to engineer a premium semi synthetic multigrade for high performance classic engines.
• Incorporation of high levels of synthetic base fluids provides increased protection under arduous conditions of load and temperature.
• Formulated to the maximum viscosity for SAE 50. Maintains high oil pressures.
• Reduces oil consumption
PERFORMANCE PROFILE:
•API:  SJ, CF
TYPICAL CHARACTERISTICS:
SAE Viscosity 20w50
Specific Gravity (at 15°C) 0.885
Kinematic Viscosity (at 100°C, cSt) 18.1
Kinematic Viscosity (at 40°C, cSt) 173
Viscosity Index 134
Pour Point (°C) <-15
Flash Point (°C) >200
Cold Crank Viscosity (cP) 9,500
HEALTH AND SAFETY:
Health and Safety Data Sheet 7678 applies to this product. When used for the purpose recommended and with due regard to the appropriate Health and Safety Data, the product should cause no concern.
FOR TECHNICAL ASSISTANCE:
If in doubt, consult with our partner shop, RPR Automotive at 410-589-3966.