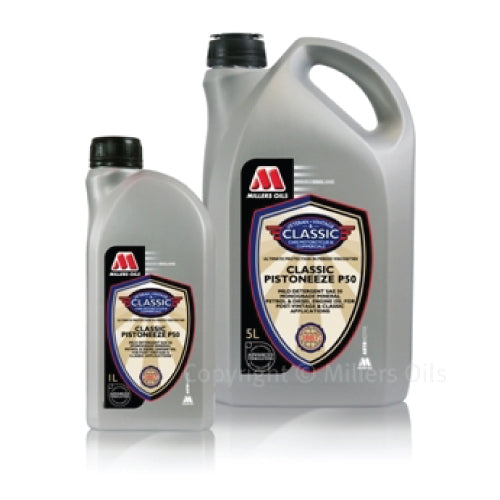 Product Description
• Monograde low detergent/dispersant engine oil for veteran and vintage engines
• Highly refined solvent neutral base oils
• Suited for 1940's through early 1960's applications with good oil filtration systems
APPLICATION:
Pistoneeze P50 is suited to veteran and vintage vehicles where a monograde is required and the owner is confident that there is no dirt and debris collected in the crankcase. Also ideal for later vehicles built during 1940 to early 1960s with superior oil filtration systems which were designed to run on monograde oils with detergent and dispersant additives.
USER BENEFITS:
• This monograde oil gives good oil control and no loss of viscosity due to shear.
• Provides the level of wear protection and anti-oxidant protection required in classic vehicles.
PERFORMANCE PROFILE:
• API: SG, CD
TYPICAL CHARACTERISTICS:
SAE Viscosity 50
Specific Gravity (at 15°C) 0.903
Kinematic Viscosity (at 100°C, cSt) 19.7
Kinematic Viscosity (at 40°C, cSt) 225
Viscosity Index 102
Pour Point (°C) -12
Flash Point (°C) >200
HEALTH AND SAFETY:
Health and Safety Data Sheet 7678 applies to this product. When used for the purpose recommended and with due regard to the appropriate Health and Safety Data, the product should cause no concern.
FOR TECHNICAL ASSISTANCE:
If in doubt, consult with our partner shop, RPR Automotive at 410-589-3966.