Millers Oils - Vintage Millerol M40 Mineral Oil
Millers Oils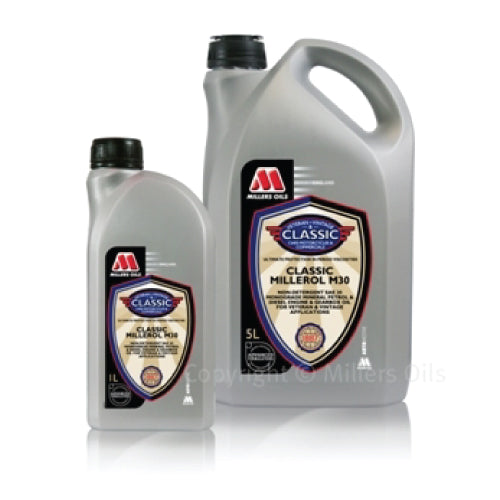 Product Description
This product is a non-detergent monograde mineral engine oil. It is specifically engineered for vintage cars with a strainer or basic filtration systems. It is formulated with ZDDP (zinc/phosphorus).

APPLICATION:
Use in classic vehicles when a non-detergent/dispersant oil is called for. Can be used in gearbox applications where a GL1 oil is specified.

USER BENEFITS:
This product provides anti scuff capability and a resistance to oil oxidation and bearing corrosion.


PERFORMANCE PROFILE:
• API: SB

TYPICAL CHARACTERISTICS:
SAE Viscosity 40
Specific Gravity (at 15°C) 0.891
Kinematic Viscosity (at 100°C, cSt) 14
Kinematic Viscosity (at 40°C, cSt) 141
Viscosity Index 96
Pour Point (°C) -18
Flash Point (°C) >200
HEALTH AND SAFETY:
Health and Safety Data Sheet 7678 applies to this product. When used for the purpose recommended and with due regard to the appropriate Health and Safety Data, the product should cause no concern.
FOR TECHNICAL ASSISTANCE:
If in doubt, consult with our partner shop, RPR Automotive at 410-589-3966.