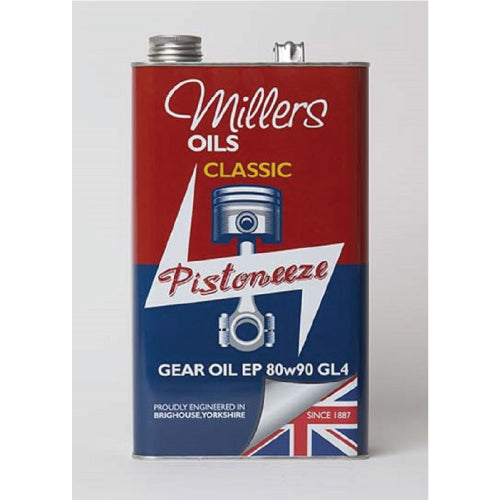 Product Description
• GL4 with extreme pressure additives 
• Suitable for brass and bronze components, i.e. non-stain 
• Transmissions, transaxles, and differentials

DESCRIPTION:
EP Transmission oil to API GL4 for classic transmissions. High quality solvent refined mineral base stocks with performance additives.
APPLICATION:
Used in gearboxes and differentials requiring extreme pressure lubricant to API GL4.
USER BENEFITS:
• Wide ranging applications. Viscosity grades to cover equipment requirements.
• Ideal for vehicle gearboxes and trans-axles. Recommended for gearboxes with overdrive.
• Suitable for rear axles not requiring Hypoid oils.
PERFORMANCE PROFILE:
API: GL-4
MIL: MIL-L-2105
Typical Characteristics
SAE Viscosity 80w90
Specific Gravity (at 15°C)
0.893 Kinematic Viscosity (at 100°C, cSt) 14.5
Kinematic Viscosity (at 40°C, cSt) 151.6
Viscosity Index 93
Pour Point (°C) -27
Flash Point (°C) 200
HEALTH AND SAFETY:
Health and Safety Data Sheet 7678 applies to this product. When used for the purpose recommended and with due regard to the appropriate Health and Safety Data, the product should cause no concern.
FOR TECHNICAL ASSISTANCE:
If in doubt, consult with our partner shop, RPR Automotive at 410-589-3966.