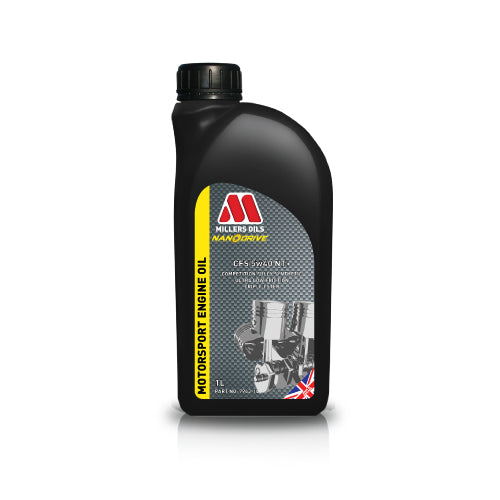 Product Description
Millers Oils' new flagship CFS NT+ range of engine oils completely redefines the performance criteria usually associated with a motorsport oil. The entire CFS NT+ range utilizes a high performance ester formulation combined with a measured addition of NANODRIVE low friction technology providing a further 26% reduction in the coefficient of friction than their predecessors. The result is an instantly appreciable increase in an engine's performance through improved horsepower and torque.
In a nutshell, Millers Oils CFS 5w40 NT+ provides a superior reduction in friction and component wear which results in increased horsepower and torque. Additionally, less friction results in lower engine temperatures which greatly reduces the rate of degradation of the oil. This means you can change your engine oil less frequently.
DESCRIPTION:
Recommended for modern competition engines where maximum power release is required and beneficial for high revving engines, a lower viscosity oil with extremely high anti wear characteristics it is specifically formulated for use in qualifying or shorter duration events. The fully Synthetic Triple Ester Nano Technology Formulation is designed for modern competition engines where maximum power release and ultra low friction are required. The ultra low friction, nano technology additives successfully proven in motorcycles with wet clutches.

APPLICATION:
Competition Fully Synthetic Triple Ester Nano Technology formulation. Suitable for fast road/street modified engines, race, rally, sprints, and climbs. Ideal for engines with hydraulic tappets e.g. Ford Zetec.
USER BENEFITS:
Fully synthetic Triple Ester Nano Technology Oil provides:
• Laboratory tests and results show a further 15% reduction in friction and a further 17% reduction in wear over the previous award winning NT range
• 
Significantly reduced friction
• 
Reduced component wear promotes longer engine life
• 
Reduced heat production
• 
Increased power output and torque
• 
Improved reliability
• 
Improved energy efficiency
• 
Superior anti-friction and anti-wear characteristics
• Motorcycle wet clutch compatible
PERFORMANCE PROFILE:
• 
Manufactured to far exceed the requirements of API SM/CF and ACEA A3/B4
• Ideal for fast road or track day use, especially in engines where a 5w30 is normally specified
• Suitable for operating at 125oC with peak temperatures up to 150oC
TYPICAL CHARACTERISTICS:
SAE Viscosity Grade 5w40
Specific Gravity @ 15
°
C 0.860
Kinematic Viscosity @ 100
°
C 13.4 cSt
Kinematic Viscosity @ 40
°
C 79.5cSt
Viscosity Index 172
Pour Point 
°
C <-48
Flashpoint 
°
C >224
Cold Crank Viscosity @ -30
°
C 6,200cP Maximum
TBNmg KOH/gm 10.0
HEALTH AND SAFETY:
Health and Safety Data Sheet 7963 applies to this product. When used for the purpose recommended and with due regard to the appropriate Health and Safety Data, the product should cause no concern.
FOR TECHNICAL ASSISTANCE:
If in doubt, consult with our partner shop, 
RPR Automotive
 at 410-589-3966.
For more detailed information check out our About Millers Oils Nanotech and FAQs.