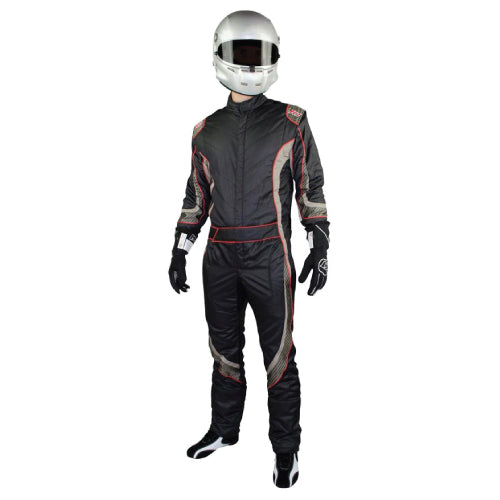 ***ONLY AVAILABLE IN LARGE***
The K1 RaceGear Champ Race Suit is the latest in our evolutionary 2-layer Nomex auto racing suit. The Champ Race Suit is manufactured utilizing advanced Nomex materials providing drivers with the highest level of fire protection, breathability, comfort and professional modern appearance.
The 360 degree, full floating sleeves, as well as both crotch and lower back stretch panels provide a full range of motion while driving. The Champ Race Suit is lightweight and a perfect choice for auto racing venues and exceeds the stringent SFI 3.2A/5 homologation standard at an unbeatable price.
***THIS DESIGN HAS BEEN DISCONTINUED. WE ARE OFFERING OUR REMAINING INVENTORY AT 30% OFF***
The K1 RaceGear Champ Race Suit provides the following features:
• SFI 3.2a/5
 Certified
• 2-layer Nomex
• Relaxed Fit
• Highly Stylish design
• Integrated breathable flex zones throughout for maximum fit and comfort
• Pre-bent 4-way stretch panels across the back and crotch zones provide a full range of motion and improved ventilation throughout the entire suit
• 360 
degree arm gussets
• 
Flat seam construction and soft knit collar
• Velcro closure at belt and collar 
• Zipper front
• Bootcut legs