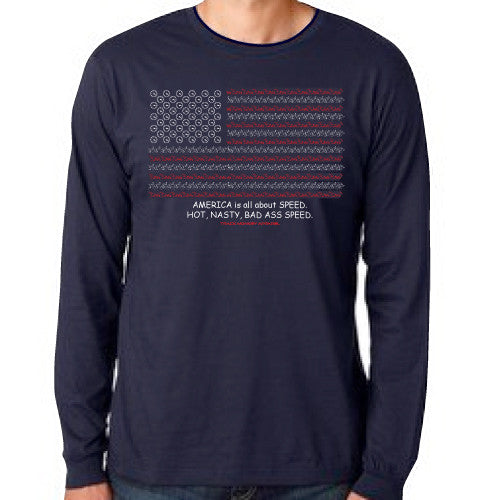 ...HOT, NASTY, BAD ASS SPEED.
Our patriotic, motorsport tribute to America and the American Flag. Red and white stripes of tire treads and speedometers for stars. A portion of the proceeds will be donated to the families of the fallen heroes of Benghazi.

Support your country while wearing your passion for speed and motorsport!
VII  XVIII  XIX
***This design is offered in two styles of short sleeve shirt and in a limited quantity of long sleeve shirts.***
SIZE GUIDE:
REGULAR FIT:  6.1oz 100% pre-shrunk cotton shirt. Your standard, roomy, soft, yet highly durable shirt. 
SEMI-FITTED:  American Apparel's highly popular short and long sleeve tee known for it's semi-contoured fit, ultra soft feel, and made in the USA. Select the next size up if in between sizes.