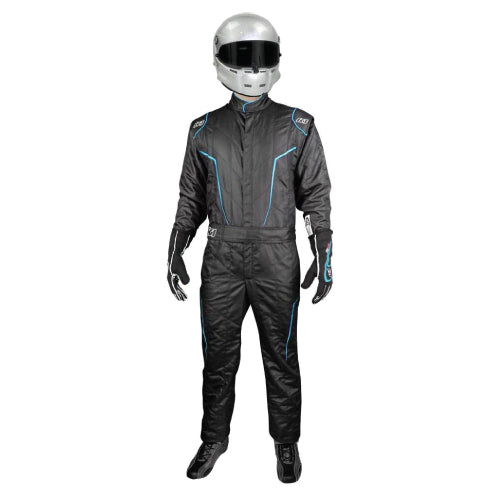 The NEW K1 GT2 Race Suit is a comfortable, lightweight performance Nomex driver's suit, loaded with premium options at an affordable price. The GT2 is a 2-layer suit with a TPP rating of 25.5 - a full 6 points higher than what is required by SFI! Available in black with three choices of accent colors.
The GT2 Race Suit incorporates 360 degree, full floating sleeves providing a full range of motion while driving. A breathable stretch panel in the lower back provides additional comfort while seated in your race car.
The K1 RaceGear GT2 Race Suit is the perfect choice for racers in need of an affordable race suit with maximum space for unlimited embroidery (for just $100) or fire-resistant digital printing for an additional cost!
Contact us at info@trackmonkeyapparel.com to explore customization details.
The K1 RaceGear FLEX Race Suit provides the following features:
• SFI 3.2A/5 Certified
• Minimal accents for maximum space for unlimited embroidered team and sponsor logos ($100)
• 360 
degree, 
full floating arm construction
• 
Integrated breathable flex panel in lower back
• 
Stylish contemporary 2-Layer design
• Flat seam construction and soft knit collar
• Fully 
customizable with unlimited embroidery ($100) or fire-resistant digital printing (contact us at info@trackmonkeyapparel.com for details)