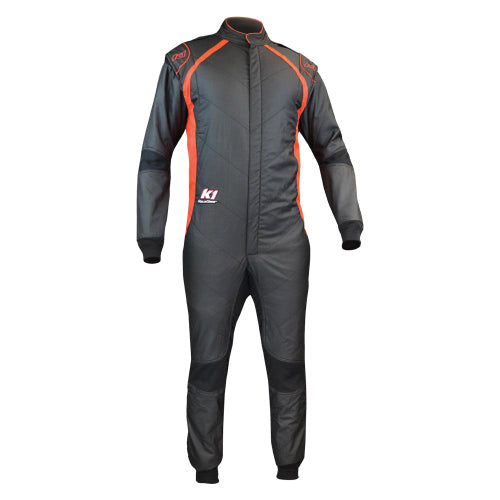 The NEW K1 FLEX Race Suit pushes the innovation limit in every aspect. This premium 3-Layer suit is full of the latest technological features and weighs in at 240/270gsm making it one of the lightest, highest functioning FIA-homologated suits in the world! Designed in collaboration with WEC and other top-level endurance race teams, the FLEX Race Suit focuses directly on breathability, ultimate comfort, and minimal driver fatigue.
The FLEX Race Suit incorporates 360 degree, full floating sleeves providing a full range of motion while driving. Stretch panels down the middle of the back, across the lower back, and in the crotch, knees, and elbows make this a truly comfortable suit to wear.
The K1 RaceGear FLEX Race Suit is the perfect choice for racers in need of an FIA-homologated race suit and is customizable with unlimited embroidery (for just $100) or fire-resistant digital printing for an additional cost!
Contact us at info@trackmonkeyapparel.com to explore customization details.
The K1 RaceGear FLEX Race Suit provides the following features:
• FIA 8856-2000 Homologated
• Ultra Lightweight 3-layer Nomex - 240/270 grams per square meter
• Relaxed Fit
• Highly Stylish design
• 
Strategic 4-way FLEX zones for ultimate comfort and ease of movement throughout
• 
Ultra-slim, flat seam stitching for optimal material use and construction
• 360 
degree, 
full floating arm construction
• 
Slim, snug fit wrist and ankle enclosure to prevent material riding
• 
Premium YKK Zippers w/ double sliders
• Fully 
customizable with unlimited embroidery ($100) or fire-resistant digital printing (contact us at info@trackmonkeyapparel.com for details)